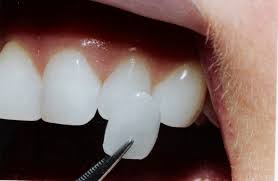 What is a Dental Veneer?
Dental veneers are wafer thin, custom made shells designed to cover the front surface of teeth to improve the aesthetic appearance. These shells are bonded to the front of the teeth changing their colour, shape, size, or length. A Veneer is made of a very thin layer of Porcelain that is bonded by an adhesive (Dental Glue) to a tooth, a little bit like a 'false finger nail'.
Why Chose a Veneer?
These are generally used in 'Smile Make-Over' cases, where anesthetics are the primary concern. A veneer is the least invasive way to change the colour, size or shape of a tooth.Veneers generally only involve the removal of minimal tooth substance (unlike a Crown which involves removing much more).
Smile-Make Overs:
This type of treatment is a delicate balance between "Art and Dentistry".
If patients wish to transform the look of their teeth in a radical way, multiple teeth may need to be veneered, often 6 to 8 front teeth. Prior to treatment photographs, shade and bite registration is carried out, and sometimes a laboratory fabrication of final finish is produced so that patient can see the proposed "Smile-Make over".
How much does a Dental Veneer cost?
At O'Connor Dental Health, we aim to provide exceptional, but affordable dental treatments. If you have a question regarding getting a dental veneer completed please get in touch with us.
Our prices are as follows:
Dental Veneer Costs
Veneers
€700